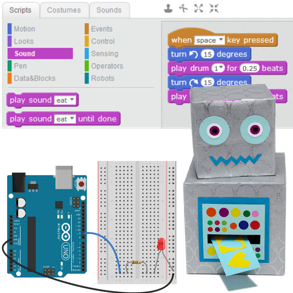 Register Now
1. 06 Jul 2019 - 30 Nov 2019 at Publika Shopping Gallery, Kuala Lumpur, Kuala Lumpur2. 06 Jul 2019 - 31 Dec 2019 at Tech Mahindra, Cyberjaya, Selangor
Keep me posted on the next schedule. I can't make it this time.

Contact me to arrange an in-house program for my school or learning centre.
Coding is becoming an essential basic skill—just like reading, writing, and mathematics—for a student to thrive in the 21st century digital age. Whether she's interested in science or arts, loves animals or sports, coding can help her pursue her interests now and open up countless opportunities in her future.
Physical computing involves building interactive physical systems with the use of software and hardware that can sense and respond to the world around us. Examples include interactive arts, sensor-based plantings, musical instruments, and DIY robots.

Recommended Age
8-12 Years
Program Duration
2 hours/week over 4 months
Price
MYR 198.00 + Arduino Starter Set @ discounted price of MYR 169.00
What do you need to bring
Own laptop (Windows or Mac) with power supply and mouse.
Drinking water and light snack if required.
Program methodology
In this program, students learn about coding and embedded system by completing a series of projects that expose them to various science phenomena such as science of colour, electrical conductivity, human heartbeat and lever system. They experiment with various sensors (e.g. ultrasonic, tilt and LDR) and actuators (e.g. servo motor, speaker and LED).
The embedded system used is Arduino and the programming language is mBlock, a variant of Scratch