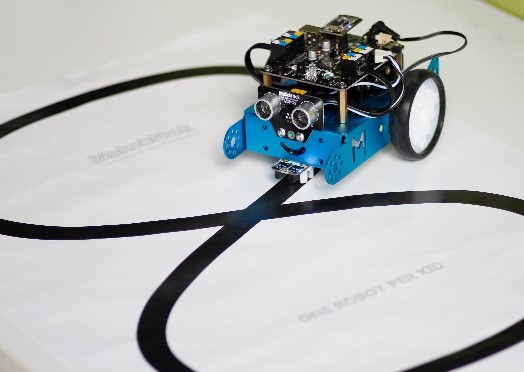 Register Now
No available schedule at the moment.
Keep me posted on the next schedule. I can't make it this time.

Contact me to arrange an in-house program for my school or learning centre.
Coding has been identified as one of the basic skills for anyone besides Reading, Writing and Arithmetic>. It is not only for people who are in technical stream, it is also important for non-technical stream as the use computers, embedded systems and Internet of Things (IoT) will touch all walks of life.
Another important competence for people today is "Maker's skill". It is the ability to build physical objects. Just working in the virtual world of coding is not sufficient and in-complete. The "Maker's skill" enables one to combine software, hardware and artwork to invent.
mBot is a versatile robot for anyone to build, program and enhance. Its brain is based on an open platform Arduino processor board.
The programming of mBot is using mBlock, a user friendly graphical programming based on Scratch 2.0.
This workshop let the participants appreciate the ease of graphical programming, experience the behaviour of robot's sensors and program the robot to perform autonomous tasks.

Recommended Age
10 years and above
Program Duration
2 days
Price
SGD 260.00
Remarks: mBot provided SOLELY for practice during class. *Student can purchase at a discounted price after the workshop
What comes with the Robot Kit
Please refer to our official link for more details: http://chumbaka.asia/learning_kit.html>
1. A Arduino processor board with the following devices on the board:
a. USB Connector x1
b. DC motor drivers x 2
c. Infrared receiver and transmitter x1
d. Light intensity sensor x 1
e. Buzzer x 1
f. Tri-colour LED x 2
g. Push button x1
h. Reset button x 1
2. Ultrasonic senor x 1
3. Line sensor (Line follower) x2
4. Bluetooth OR 2.4GHz Serial module x 1
5. Aluminium chassis frame x 1
6. DC Motor x 2
7. Mounting screws and nuts
8. A 4xAA battery holder

What do you need to bring
Please have your own breakfast/lunch before you come for the workshop

Program methodology
Graphical programming using Scratch.
Programming structure, control loop, variables, etc.
Intermediate concepts of sensors and their applications.
Control of input and output (IO) of a microprocessor.
Program a robot to perform autonomous tasks: Line follower and avoiding obstacles.
Real life applications of robots.