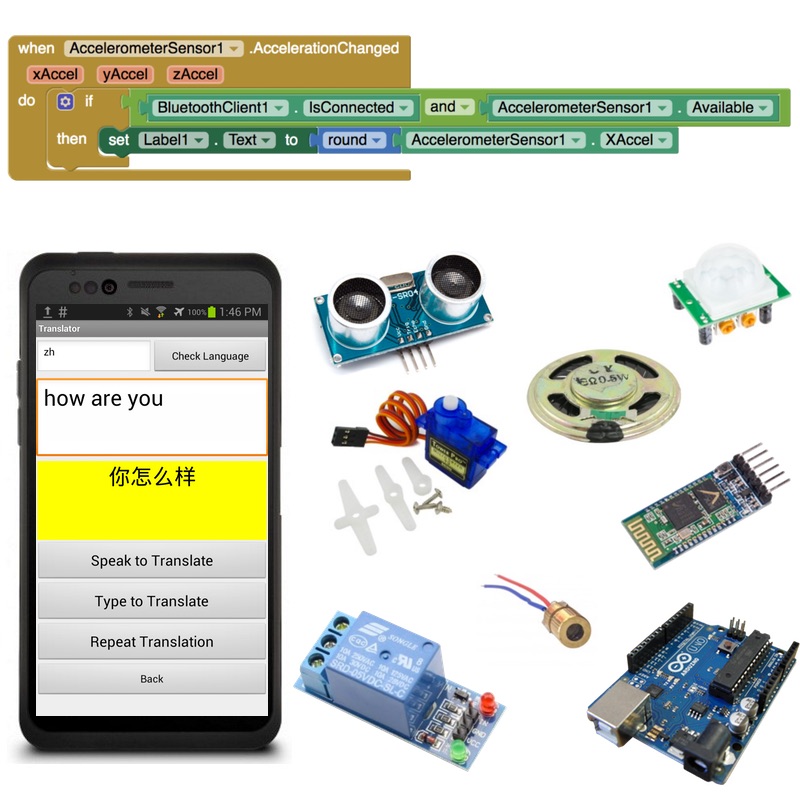 Register Now
No available schedule at the moment.
Keep me posted on the next schedule. I can't make it this time.

Contact me to arrange an in-house program for my school or learning centre.
An Arduino is an embedded system the size of a credit card, which you can code and program using the Arduino IDE. By itself, the Arduino has limited sensors; however, when you combine the Arduino with a smartphone, which runs mobile apps you create with App Inventor, this pairing results in a system that expands the features of the embedded system.
Among the exciting things you'll explore is how to enable Internet of Things (IoT) capabilities for your project and learn to use a subset of Artificial Intelligence (AI) to control your devices.
AI was founded as an academic discipline back in 1956. In recent years, the availability of big datasets, cheaper processing power, and open-source technologies have driven AI's subset technology—deep learning—into various applications. Examples include image and video recognition, speech and language processing, medical diagnosis, finance reporting, weather forecasting, and many others.
App Inventor is an open-source Web application originally provided by Google and is now maintained by MIT. It allows newcomers to computer programming to create software applications for the Android operating system. It uses a graphical interface, which lets you drag-and-drop visual objects to create mobile applications.
Recommended Age
9 and above
Program Duration
2 hours/week over 4 months
Price
MYR 198.00
/month + Arduino Professional Set @ discounted price of MYR 268.00 (those with Arduino Starter Set need only to purchase Add-on Kit @ MYR 99.00)

What do you need to bring
-
Program methodology
In this program, students learn to create software applications for their mobile devices. These applications connect to the embedded system to interface to the physical world. Students then learn to apply AI technologies, such as speech and image, to control various actuators such as light, motor, and relay.
The embedded system used is Arduino.